A Catholic Priest, a Rabbi, and a Baptist preacher walk into a bar. The bartender looks up and says, What is this, a joke?
---
Thanks for looking. I hope you enjoyed it more than I did. If for some strange reason you'd like to get in touch with me you can write me an email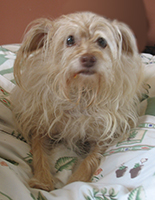 This is Snaps. Arf arf!